Hotel Marketing WOW which increase instant Hotel website booking
Namaskar friend Small gratitude and thank you for visiting on this website. Today I am saying you information about one of the hotel marketing expert services going to be very useful for you because this service doesn't have anything to lose. Hotel Marketing WOW which increases instant Hotel website booking
I would like to introduce you to Mr. Amit Gaur, 41 years of age having 18 years of Hotel marketing and operational expertise now providing a great solution to hotels increasing Hotel online business and more online room bookings. He had started his own Hotel marketing company with his fellow members and few IIT students. The Vision and Mission are very clear to provide great Hotel internet marketing services in cheap Price with Great Results 
Amit Gaur Hotel Marketing Services claim to increase Hotel direct website booking and he has found out a great solution by  creating awareness on search engines for  the customers that whenever you are booking a hotel online always talk to the Hotel Manager before booking from anywhere. This process required great technology and hardworking but this process works , in that way He Divert Traffic to Website and More Phone Call for direct room bookings
this really  works, you will find your hotel website direct booking has increased telephone calls from the customers start coming to the Hotel Manager's phone number and asking, can you give me a good price or I will book online from any online travel agency.
If you are interested more about learning this hotel marketing please contact Mr. Amit Gaur and his phone number is below you can contact them and ask more about the services I would like to inform you that the fees only 2000/ - per month. First month Free for you to check who goos this works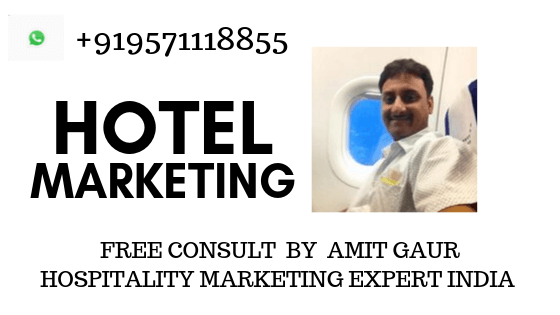 There are a free trial and money-back offer also and believe me this is something going to be very interesting for you and you will save a lot of money I am sure you as a hotel manager and as a hotel revenue manager you want that people book hotel room directly from your hotel and I am sure many revenue managers are finding a way but not succeed but this process is so solid you will definitely find the results So contact the Amit and discuss more about this subject Amit will help your hotel increasing more booking from the website and you can save a lot of commission paid to online travel agencies.