Read about How You Increase Hotel revenues | marketingHotel.in
Namaskar friends I am Saurabh Mittal and I would like to introduce you Chef Amit Gaur from India top chef. He is taking Indian food to the next level in India and abroad. I would like to tell you about his expertise in his services and why he becomes a top chef in India.
Chef Amit Gaur With chefs.
 Contact Amit  +919571118855  or email Him at  chefamitgaur@gmail.com
First of all, I would like to define to you what are my parameters related hymn one of the topmost Chef culinary experts in India. Innovation creativity and out of the box fast working records. I got the opportunity to speak with him at International Airport Bangkok. While little talking with him I find he has a piece of great knowledge in his subject and he is providing something unique to the Indian food in India and in a broad he is creating Wellness food. He has recently developed a menu which base on fast luxury food involve healthy and Wellness ingredients after talking with him I find he has a piece of great knowledge about Karnal expertise we can convert any simple interest into the most luxurious dish in a plate.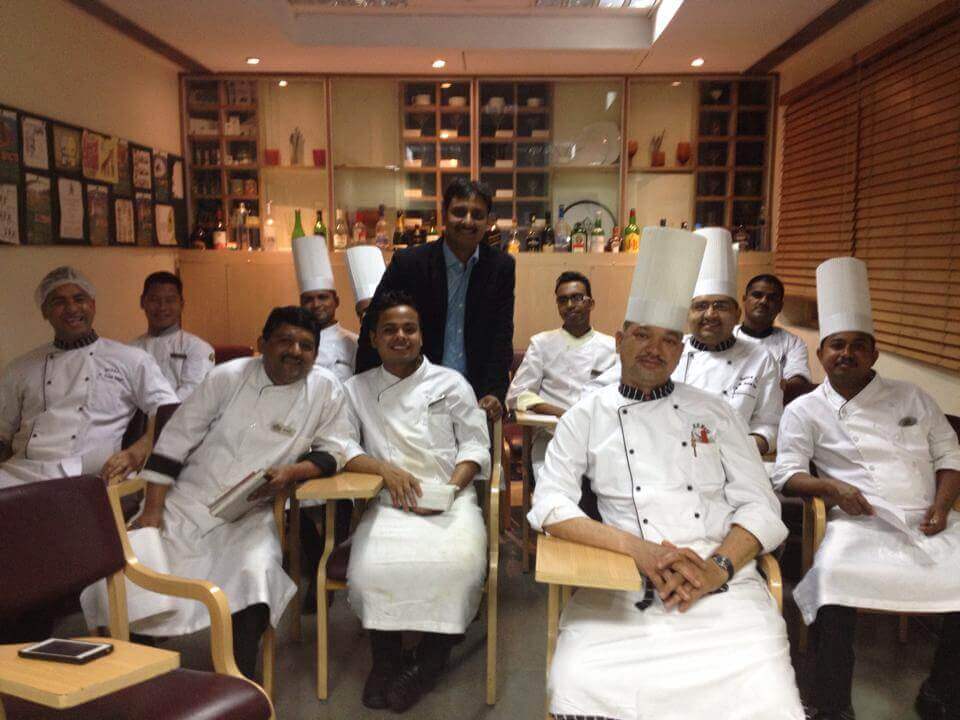 Presently he is offering consultancy and advisory services to many hotels and resorts who claim they have excellent food but not doing well. Is service involve creating interesting Wellness and foodie menus standardization of recipes training of cooks and ensuring marketing of the food on search engines. This is something unique and you for me I have a lot of creativity and I ask him do you also provide Marketing Services he told me yes it is very important to market your excellent food to the target audience and internet marketing is something very cheap and result-oriented but unfortunately due to lack of knowledge this internet is been not optimized properly.
I have asked him what are your services and how you would like to give a message to the audience and Restaurant owners looking for a top Chef consultant in India
He told me I have a lack of time but if I am helpful in your project and I can share my knowledge to your people and to your place I will be highly obliged if you have any opportunity where you are suffering your restaurant revenues are not increasing you think your recipes need to be changed you think your menu needs to be reworked I am very glad to provide you my services across the world I am today doing a lot of international restaurant projects also.
After little talking with him at the airport I reached to this conclusion he is one of the topmost chefs in India and I would like to tell you my five reasons by I find he is the top chef in India better than any celebrity Chef Kapoor or Sardarji for any other person.
1. He is providing training and skill development to the peoples and cooks who have not done Hotel Management Institute he is providing free of cost services and training to the books to empower and transform in India that is a reason for me he is the top chef in India. He told me I am teaching many small vendors food vendors Dabbawala on food hygiene and basic preparations of the kitchen which help them to grow their business I do this whenever I am free and having some good time.
2. He is one of the only shapes in India who also learn software programming and develops much software for hotel industry he has worked on communication software which is one of the topmost software in India Wi-Fi CRM and Google marketing and communication manager. It is something out of the box I have never seen a chef who has his expertise in two software programming and advanced internet marketing. He told me I am teaching chef and cook how to market themselves and their product with the help of internet which definitely help their present living standards up future because every job is joining a new business
3. He is working on a project and teaching and training old recipes recreation this is something which the really appreciate because nowadays modern food has taken place of our old food is something we need as a nutritious but 810 mm challenges and he is solving those all challenges that is a reason he become one of the top chefs in India
Contact Amit  +919571118855  or email Him at  chefamitgaur@gmail.com
The conclusion is if you are looking for a top chef in India you must meet and speak to Chef Amit Gaur in India, believe me, he has the caliber and capacity to convert your not doing well restaurant into a great high profitable business. He has great expertise into making simple ingredient into expert dishes the presentation the teaching skills and he is transforming many cooks and managers into modern entrepreneur assets. He is been awarded best executive chef in India and down to the earth very humble very intelligent and sincere he quite promising commitments and results to the people who are looking for the top chef in India.
I am sure you want his number I am going to shave you his number and his work you can contact him I am sure this article going to be very helpful for you because you are searching for top chef in India and I have told you about Chef Amit Gaur who is a recent top most chef in India he has a celebrity and famous name for culinary peoples and Restaurant business owners in India