Top 10 Hotel marketing ideas after lockdown covid-19 India
Namaskar Bhai sahab, my name is Amit and I am a Hotel marketing expert in India. Firstly I would like to tell you my English is not very good but my hotel marketing skills and knowledge is too much. I have developed myself as an expert and intelligent and aggressive Hotel digital marketing professional and presently I have 25 peoples working in my Brigade and everyone is solid and intelligent about Hotel internet marketing.
I provide digital and social media marketing to hotels Resorts restaurants in India and today in this great platform I am sharing your top 10 ideas and strategy for marketing your hotel on the Internet after coronavirus COVID-19 lockdown effect.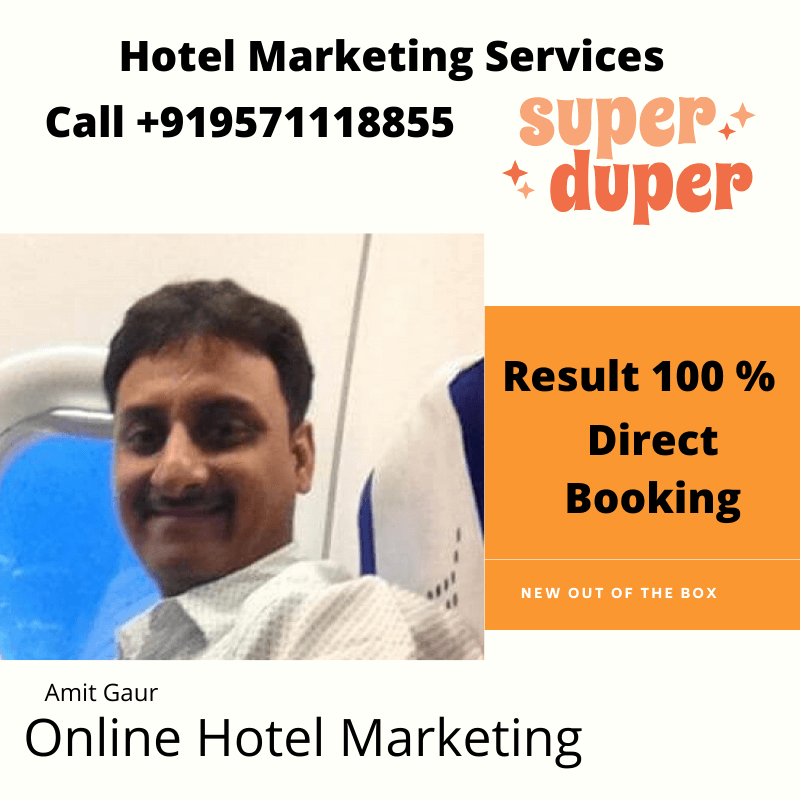 The first thing please remember that your city Occupancy will go down but it not reach to the label Zero, it means now you will have lot of competition and every Hotel want to do digital and online marketing of their hotel and want to increase their Hotel Occupancy but don't worry if you are reading this before your competitor you will have 10 solid strategies for marketing your hotel online on the internet to increase more online room bookings and more customers to your hotel.
Let me first introduce you myself my name is Amit Gaur I live in India and I provide Hotel online marketing services Hotel revenue Management services and social media and Search Engine Optimisation and digital marketing solutions and services to the hotels I take very limited projects but I would like to share my knowledge and skill to all those who cannot able to afford my services so read top 10 hotel marketing ideas after lockdown COVID-19 problem to the hospitality industry.
My first idea to improve your hotel marketing and more business and more profit is
1. Start using Google Adword and Google Hotel ads set your budget minimum budget starts from 20 rupees onwards.
2. Remove all those peoples who are the middle person in detail try to reduce the commissions or try to get direct revenues business to customers start marketing of your hotel bedside digital marketing social media marketing and Google promotions so that you will have more direct bookings directly and you can save a Commission.
3. Start daily using your hotel Google Map at high quality of back lines and daily update on your Google business page
4. Active and more social on different virtual platforms create high quality videos and marketing of your hotel on internet
5. Reduce your hotel room prices that is one of the key factor is start focusing on more Occupancy rather than more average room revenue.
6. Start giving discounts on your food breakfast buffet and other guest services immediately and published on the internet.
7. Remapping of the OTA platform is also very useful if you want to increase more online bookings directly from online travel agencies you can map back the OTA platforms this will improve more online bookings.
8. You can visit here and read more about Hotel marketing strategies especially in the lockdown
Here are some zero cost marketing hacks:

1. Start a podcast in your industry using your phone or recording through Skype.
2. Run a giveaway on social media to bring awareness.
3. Create a challenge on Instagram.
4. Build a referral program.
5. Engage with your customers online through community management.
6. Upsell current customers.
7. Make connections or friends with influencers in your industry.
8. Gain people's emails, grow a list and send them valuable information.
9. Host an educational webinar.
10. Cross-promote your products to existing customers.
11. Begin to comment on thought leader's posts or blogs with interesting insights.
12. Get more testimonials from current customers.
13. Encourage more user-generated content.
14. Video marketing using your phone.
15. Begin to blog or guest blog to build traffic to your site.
16. Build a Facebook or LinkedIn group in your industry.
17. Help others or clients for free in exchange for a case study or testimonial.

Digital marketing or marketing doesn't have to be expensive.

You can do a lot with no money.

 
You can also contact me my phone number and detail I am going to give you can contact me we can have talked on the telephone I am free nowadays because there will be a lot on so I am staying at my home and I am available on my phone number you can talk to me on my phone and we can talk more about how we can improve your hotel online revenues and more bookings and more customers to your hotel in this great situation and believe me the hotel marketing, especially on internet marketing, will really work and believe me we provide a complete solution we have a great strategy for email Marketing Communication marketing and online internet marketing we are expert into hotel Search Engine Optimisation search engine marketing Google Hotel promotions and everything in the very reasonable price you can contact us because there is no money talking with each other and I am sure I can give you Ranchi that we can help a lot for you and I am going to use for my skills and Hotel marketing knowledge for making your hotel business up in the city thanks you very much and attitude reading my no grammatical English
Hotel marketing ideas in lockdown