Kerala Best chef Consultant Menu planning kitchen designing restaurant cafe cloud kitchen
Kerala, best chef consultant information who can make your workload reduced by providing excellent menu planning kitchen designing for your restaurant cafe and cloud kitchen hello everyone my name is Jennifer and today I am sharing your information about one of the top-ranking chef and Restaurant consultant in Kerala I would like to introduce you Chef MS Ghouri and Chef Amit Gaur.
Started by two well-known chefs from India CHEF M.S.GHOURI AND CHEF AMIT GAUR, a very familiar and renowned chef and F&B CONSULTANT's and we believe that A GREAT DISH LIES IN ITS HONESTY AND GENUINENESS with heart and soul into the dish this will reflect in his or her cooking as a chef. This what we believe and respect each and every chef who is in this industry, while some are successful and some aren't. We have joined together and working on this venture with pure passion, honesty and hard work to create a magical experience.
WHERE DO WE COME FROM?
We both are graduate in hotel management and began our career with different brand. Chef M.S. GHOUR began with OBEROI INTERCONTINENTAL NEW DELH AND CHEF AMIT GAUR began with ….. and we both grew up independently with various big brand like Claridges, Ambassador Pallava, Holiday inn, ITC,  Le Royal Meridien, Radisson - India , Imperial group of hotel in Uganda , Sheraton – New York , best western and Howard Johnson – Canada.
We had been friends for a long time and until that one auspicious day, when we had decided to join together, shared our thoughts, ideas  and do the needful for those need our help to establish their Restaurant, Hotels and other food units and incline their profitability, as witnessed by organizations that have partnered with us in the past. We believe in the classic old and progressive new techniques. We have developed our own versatile style of cooking using traditional recipes as guidelines and adding our own unique twist to it. That is what defines us as the 'Range cooks' who also experiment and believe by merging cuisines and developed the ability to create everlasting flavors and thereby create unforgettable memories.
This unique yet amazing collaboration has brought numerous laurels and awards to our association with a wide range of brands, both national and international.
CONSULTATION
Following a successful career as executive corporate chef and corporate chef with big brands as mentioned in our introduction. Chef M.S. GHOURI AND CHEF AMIT GAUR embarked on a new venture as Consultant Chef under the flagship of FNB SOLUTION. With our knowledge and expertise, we are successfully worked in close associations with various F&B companies since 2016.

With an experience of numerous years as our backbone, along with industry leads and our networking skills and most importantly, our culinary expertise, we can provide concept development strategies and best practice operating principles that can create long lasting brand loyalties and outstanding sales performances.

Chef Ghouri and Chef Gaur believe that the greatest sense of satisfaction in being able to collaborate with clients who believe that excellence in food quality and service matters immensely and are mutually dedicated to achieving the goal.

Having worked with star hotels and restaurant chains. We hold a distinct portfolio with diverse expertise. We both have achieved tremendous appreciating from every end also one of us was the founder chef of some of leading restaurant in India as well overseas like  Chore Bizarre (New Delhi), Claridges Dhaba (New Delhi), Ragini (New Jersey), Copper Chimney (Colorado), Masala Bistro (Detroit), and Masala Grill (Kitchener, Ontario, Canada) and many more
WOULD LIKE TO REACH TO THE TOP OF THE MOUNTAIN BY YOUR SUPPORT AND REFERAL                                         
We have a strong vision that we believe in, and that is to create long lingering flavors through our food and provide a strong foundation to our clients. We ensure quality service with respect to standardizing the menu & dishes. Consistency, Persistence & Pro-Active attitude will help us go that extra mile and make sure that we can deliver over and above than usual. Apart from our expertise, we strive to educate & spread the knowledge to make sure that every individual we connect is an individual equipped for the venture.
1. Best chef consultant in Kerala Meet Chef MS Ghouri
He is one of the very knowledgeable experiences and versatile personalities in this earth. He provides training and teaching and complete coaching to all those were looking for restaurant consultancy in Kerala are you planning to open a restaurant in Kerala and you are looking for somebody who can help you into menu planning menu designing and training of your staff standardization cost-cutting marketing of your restaurant and providing you good quality of skilled manpower than Chef is the only name comes in the mind whenever you are thinking a consultant a chef consultant in Kerala.Contact Chef Now on +919571118855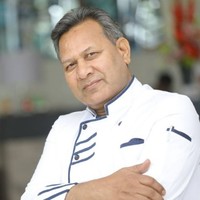 Chef MS Ghouri
2. Best restaurant consultant in Kerala Meet chef Amit gaur 
I would like to introduce you Chef Amit God one of the award-winning top-ranking Chef of India he is also very knowledgeable into making strategy for restaurant marketing producing high quality of new innovative food menu and he is also one of the best chef consultants in Canada he is working together with Chef MS Ghouri. You can contact him or Chef anyone and they can solve your problem solve all type of restaurant problem we provide very reasonable price consultancy and problem-solving services to restaurant owners in Kerala so your search and here if you're looking for a restaurant or a chef consultant in Kerala because they are the top ranking to individuals available 24 hours to help any restaurant providing their skills knowledge and deliver quality and very promising restaurant and Chef Consulting Services in Kerala. Contact Chef Now on +919571118855
Author of this article is top-ranking food critic in the United State of America