Hotel digital marketing ? Try Amit Gaur services in Jaipur
Hotel Digital marketing ? Try Amit Gaur services in Jaipur 
About Hotel Digital Marketing 
Amit Gaur any steam provide digital marketing services to the hotels and resorts in Jaipur city Rajasthan. The company provide a unique combination of involving present Hotel team into digital marketing and 24 hour monitoring system by experts who are digital Guru. They are the real internet Google guru and Mughals. To making life easy and performing great digital marketing the company has created many helpful Technology softwares online and offline training programs for Digital Marketing hotels.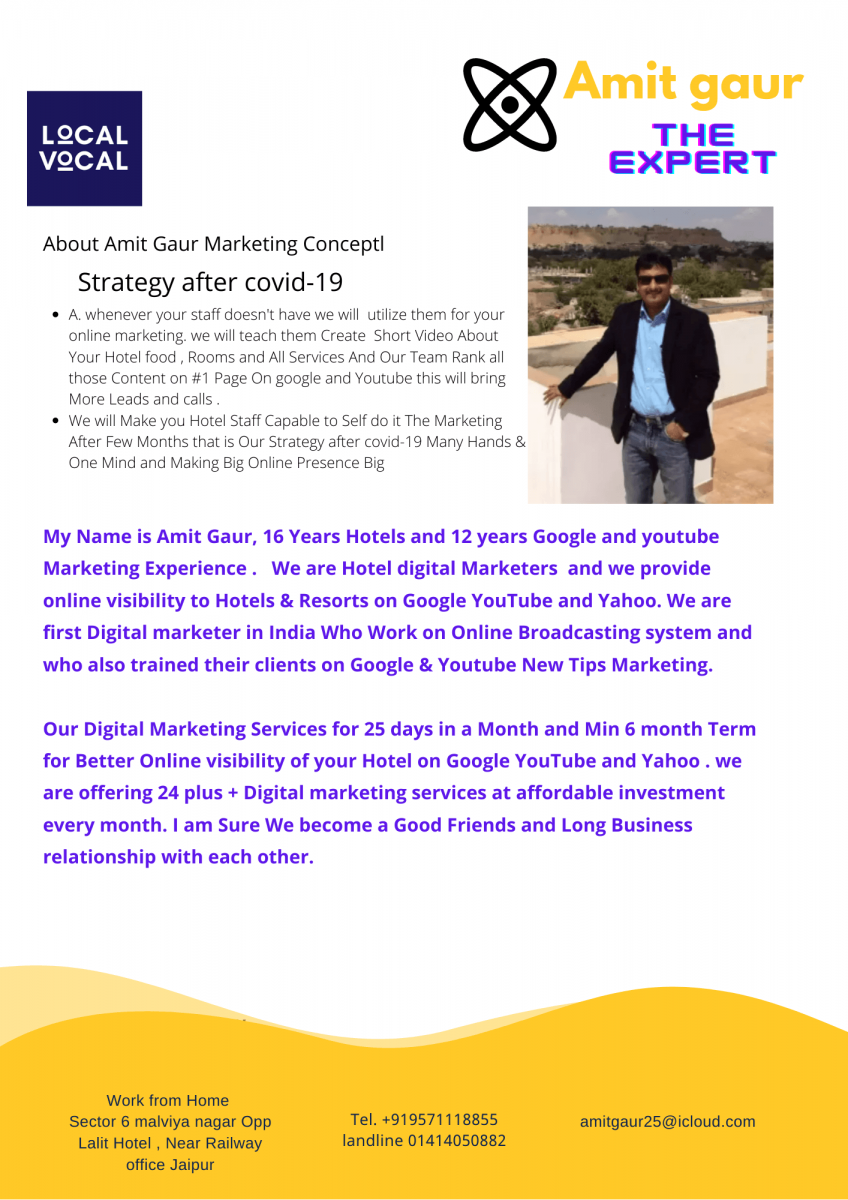 About Amit Gaur Hotel Digital marketing program 
Amit Gaur digital marketing program, is a combination of services, software, and training. He is strongly believe, to perform a very effective digital marketing, we need to involve everybody who's working in the hotel, and provide easy softwares and Technology, they can contribute. Digital marketing is all about influenced marketing. If everybody contribute, results are amazing. We are looking for hotels and resorts to provide our services in Jaipur city. We are specialised into hotel digital marketing. 
Hotel industry is completely online, 78 % of revenue contribute to the hotels nowadays from the great efforts of digital marketing. Amit Gaur is the name, of individual, who started, accompany in 2014 and providing Digital Marketing Services to the hotels and resorts. Because he has given his 15 year of life into hotel industry he know what type of digital marketing required for hotels and resorts to attract more customers and target audience who influenced, to book hotels online. 
Digital marketing for hotels are now very essential and digital marketing play a very important role for hotels performing marketing to the potential target audience. Your customers are now digitalized, everything is online, every information is now online, from hotel booking rooms, checking room prices, tariffs, comparison, everything, tourist and travellers are doing online.
The concept of digital marketing still mystery hotel owners and Hotel managers. The real meaning of digital marketing is set up a great communication and using different platforms. With the help of digitalisation Communications are very easy and you can setup communication in real time. It is good news for the hotel operators and Hotel managers if you are looking for a digital marketing company in Jaipur city Rajasthan who can do a hotel marketing for you on digital platforms try Amit Gaur services. He has a wonderful team working with you who are experienced what's the time in to digital marketing. 
360 solutions for Hotel digital marketing. 
Mr Amit Gaur has developed many softwares for performing digital marketing, the method of performing digital marketing was very different and unique adopted by Mr Amit Gaur. 
As per one of the  interview with him, he told us, we provide, a training program, and continuous monitoring system, our Hotel clients, to perform a great digital marketing for their product and services online. Our services includes involvement of presenting in digital marketing, and creating big time results. It is our strongly opinion , two or three people, cannot perform digital marketing, digital marketing is all about influenced marketing, hotel has 202 300 peoples working, we provide softwares and Technology and daily basis monitoring system for Digital Marketing, which can set up a great results for our clients. Our digital marketing is something very different and unique but results are very promising. 

Conclusion : If you are a Hotel Manager,Or a hotel operator, and you are looking for a agency, who can perform a digital marketing services for your hotel, you must try, meeting, talking to Mr Amit Gaur. He provide. Xclusive Hotel marketing and digital marketing services to Hotel operators and hotel aggregators in Jaipur city. The concept of digital marketing created by Mr Gaur is something very different and unique. 
He has defined digital marketing into three parameters 
1. Set up a system at Technology with digital marketing where you can easily read to the potential customers related to your service and product in the world. 
2. Set up a system with the technology and digital marketing where the person who is searching the same services and product online will reach to you. 
3. Creating and set up a technology and system in the place which will ensure to provide guest experience and get delight, which we create, review management, and reputation management, visual also a part of online digital marketing. 

Overall customers services are focused, with the help of Amit Gaur digital marketing services for the hotels, at the same time, hotel everything, every services, has his own, marketing online setup done by Amit Gaur team. 
This company has very good reputation and promising record for performing Hotel marketing in Jaipur city. The cost of project is very pocket friendly, and this association for your hotel digital marketing will contribute working together policies. 
I am sharing you the phone number and contact number of Mr Amit Gaur if you are looking for a agency to perform your digital marketing hotels please contact him visiting meeting 
Best Digital marketing for Hotels in Jaipur
Amit Gaur 
Address: 6/37 ,Near Gold Shuk Building, Malviya Nagar, Jaipur, Rajasthan 302017
Phone Number :  +91 9571118855 
Website : www.wificrm.in
More About  Hotel Marketing 
Hotel Marketing Companies INDIA
Reputation Management Hotel Marketing
Hotel Markeitng By Tripadvisor
Hotel Marketing Company in Delhi
Hotel Marketing Company for Digital Marketing